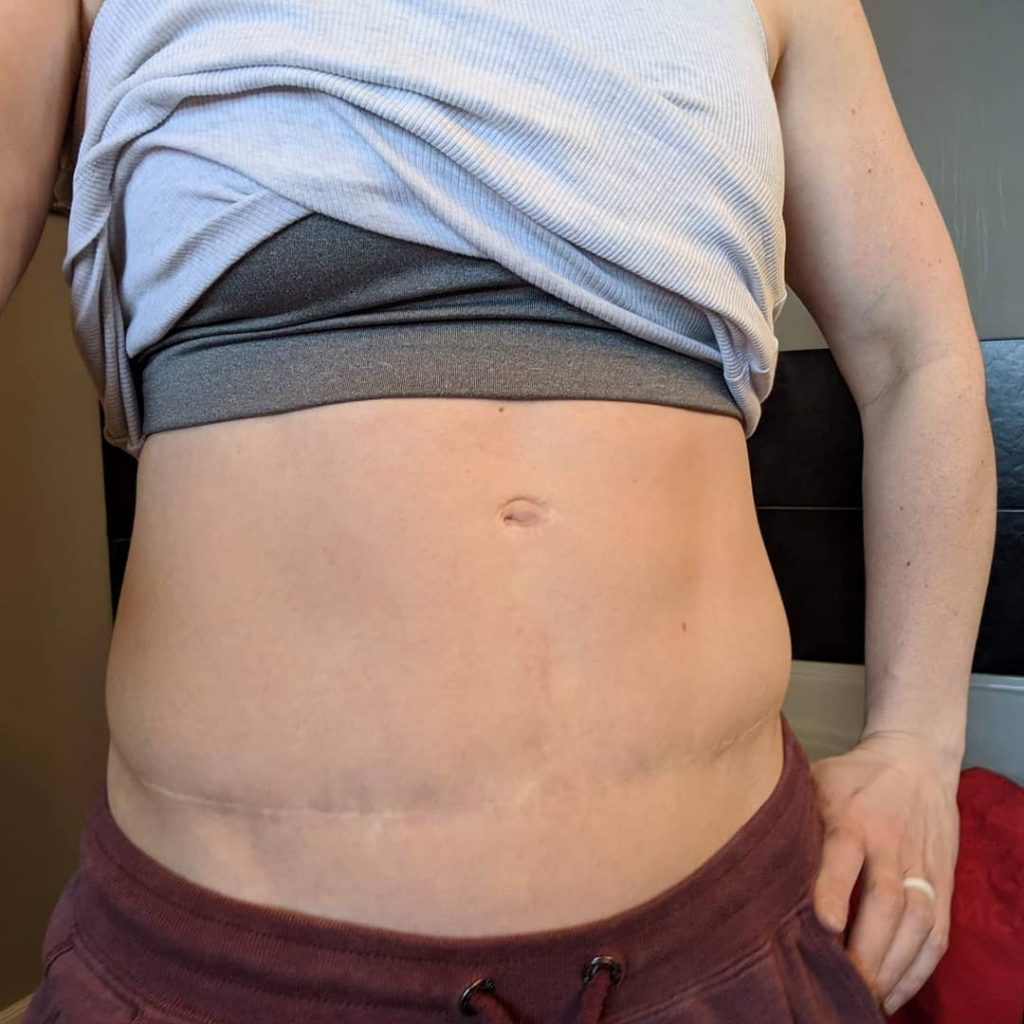 "Oh Mommy…I'm so sorry," my 6 year old said as her little fingers traced the long scar across my lower abdomen. "Why are you sorry, honey?" I asked, taken aback.
"Your scar…it must have really hurt…. Did it hurt to have your babies?" She looked up at me with her sweet blue eyes, conveying concern under her furrowed brow. "Well it did hurt a bit at the time," I answered, "but it doesn't hurt at all now. And I'm not sorry about it. I would have a hundred scars if that's what it took to have my girls." I smiled at her reassuringly.
She smiled back and planted a gentle kiss on my tummy, kissing me all better of course. And then she danced off to play.
I looked at myself in the mirror. I had stepped out of the shower moments ago and stood in my underwear and sports bra in front of the bathroom mirror. Along my tummy, a thin scar was strung from hip to hip, with a midline vertical extension of a few inches – as if pointing towards my odd-looking belly button. I looked at it and realized that I truly was not sorry for it. And yet, why then did I hide it?
I wear high waisted leggings – heck I even wear high waisted bikini bottoms. I wear cover-ups at the beach and one pieces at the swimming pool. I hide it so others don't see. I hide it in case they feel that it is ugly…in case, the view makes them think that I am less. I don't want their judgements to steal or dampen the acceptance and pride that I have in my journey.
But the truth is that hiding it to protect myself and my story from judgement, also means that I cover the triumph that my scars represent. It means that my daughter sees it as something to hide, something that I am sorry for and that is not what I want.
My scars are my reminder of my journey through motherhood – my reminder that my body carried my beautiful twins earthside. They remind me that my tummy grew and stretched as it held onto them, answering my prayers that they would not arrive before they were ready for the world. With this, my connective tissue gave way to them, accommodating their growth as nature intended.
I was brave in my journey, but I have not been fearless in the aftermath. I have hidden my scars and only shared my story with those that I trust. But in recent months, I have been reminded that we acquire courage by practicing our bravery. Sharing our stories – as raw and vulnerable as that can feel – can allow others to step into the light that our bravery creates, so that they may feel less in the dark.
So in case you haven't seen my scar…here it is.
And no, I'm not sorry.
Originally published March 16, 2019 at Teresa Waser – RX Physio (@rxphysio) • Instagram photos and videos

#diastasisrecti #diastasisrectirepair #diastasis #twinmama #physiotherapy #postpartum #restore #strengthen #journey